About The Olive Branch
Making Our Dream A Reality
Billy and Maria Hutchinson always dreamed of being small business owners. In 2019, they were able to make that dream a reality by purchasing The Olive Branch in The Village at Winona.
The Hutchinsons are dedicated to providing premium olive oils, vinegars, and other specialty curated foods to help enrich your daily life. They are committed to providing the freshest and healthiest products to every customer.
The staff members love being able to share their insights into how to use each oil, vinegar, and product to experience the best flavors and health benefits.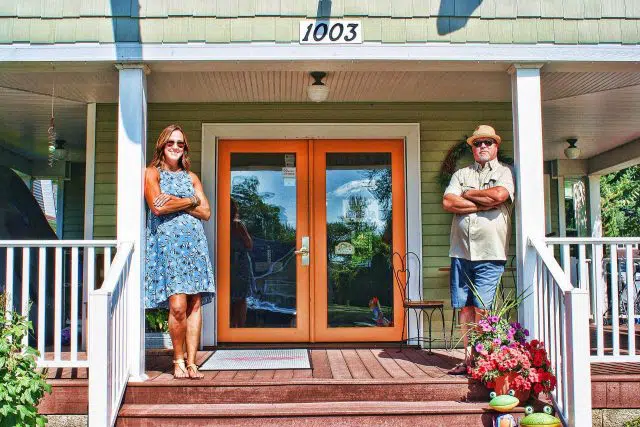 Our mission is to serve our customers with the freshest, finest quality extra virgin olive oils and balsamic vinegar available.
The Olive Branch Experience
Visiting The Olive Branch in The Village at Winona gives you a unique opportunity to experience high quality olive oil and balsamic vinegar in a tasting room environment.
They keep things fresh and exciting by rotating new oils and vinegars alongside their regular favorites. One of Maria and Billy's favorite parts of owning The Olive Branch is helping their customers experience new flavors in new ways.
When you visit their one-of-a-kind shop, you can always expect to find an array of unique products from small businesses from across the country, many of which are unique to the Northern Indiana community.
The Olive Branch Difference
The Hutchinsons value inclusivity and love sharing that Olive Branch products are for everyone!
Whether you're a seasoned cook who loves bringing new flavors to the table or someone who is looking for healthy alternatives to complement a healthy lifestyle, if you enjoy food and want to enrich your life, The Olive Branch has something for you.
Since The Olive Branch is a local small business, we understand the importance of community and building relationships with our customers.
Coming into the store is not only a learning opportunity to discover new products, but it is also an opportunity to connect with people who genuinely care about what you need.
The Olive Branch is here to give you the best experience possible and guarantee you'll leave the shop with a smile and plans to come back soon!
Our Team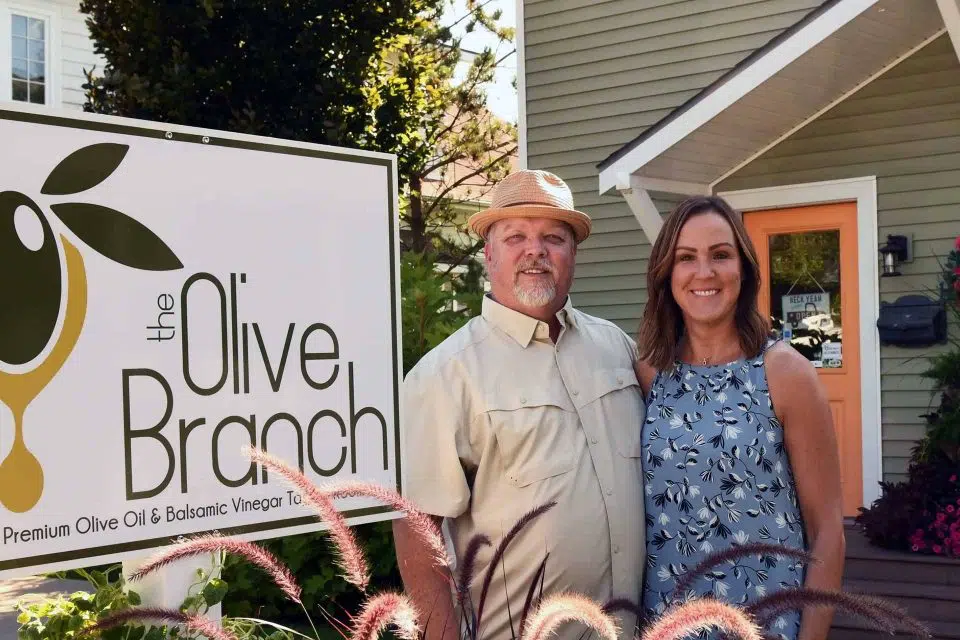 Meet The Owners: Billy & Maria
When Billy and Maria Hutchinson moved to Winona Lake in 2009, they knew they had found their forever home. They fell in love with the lake, the people, and The Village. When given the opportunity to purchase The Olive Branch, it was a dream come true, and they knew they were definitely home for good. Billy has worked in supervisory and management roles and has always enjoyed cooking, so taking the helm at The Olive Branch was a perfect fit.
While Billy runs the business, Maria continues to teach for Warsaw Community Schools and helps out at the store when she can. Their love of people and passion for their business is apparent as soon as you walk through the door at The Olive Branch; they're sure to help you find something that will keep you coming back!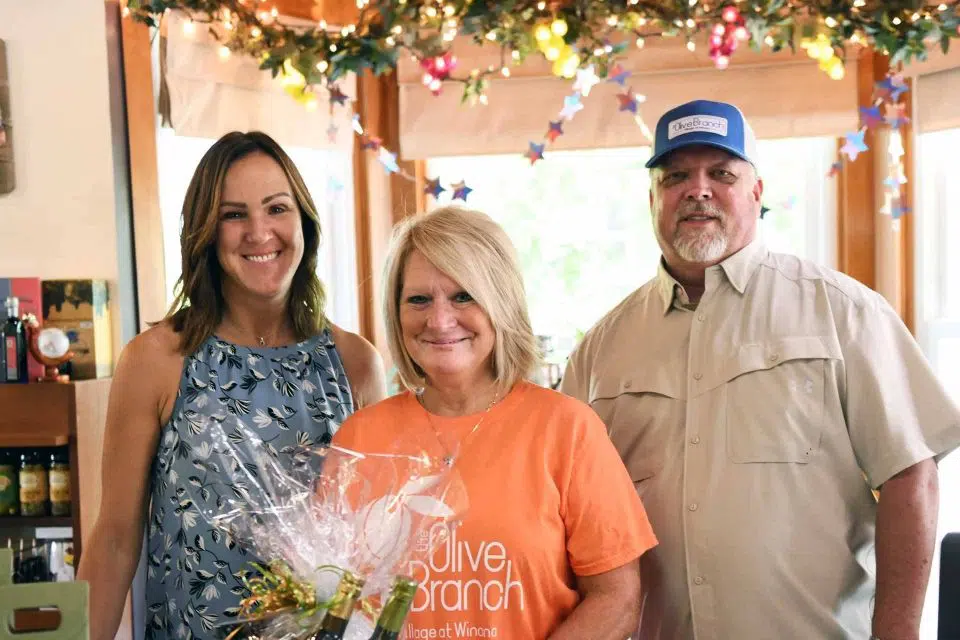 When visiting The Olive Branch, you will be greeted with a smile by Sandi, our manager, friend, and a huge part of the Hutchinson family. You will also immediately notice her talented decorating skills signifying the current holiday or season. Although decorating is one of her strongest skills, Sandi is also a valuable asset as a manager overseeing the day-to-day operations of not only The Olive Branch but our newest venture, Canal Street Market, which she also manages.
The Hutchinsons had the pleasure of meeting Sandi several years ago and admired her hard work and dedication to her previous job. When Billy and Maria decided to purchase The Olive Branch, they knew they needed someone they could trust, and someone that would treat their business as if it were their own.  Sandi has proven to be that person and much more!
When Sandi's not working at The Olive Branch or Canal Street Market, she's most likely spending time with her grandkids, relaxing on her porch, or enjoying the lake.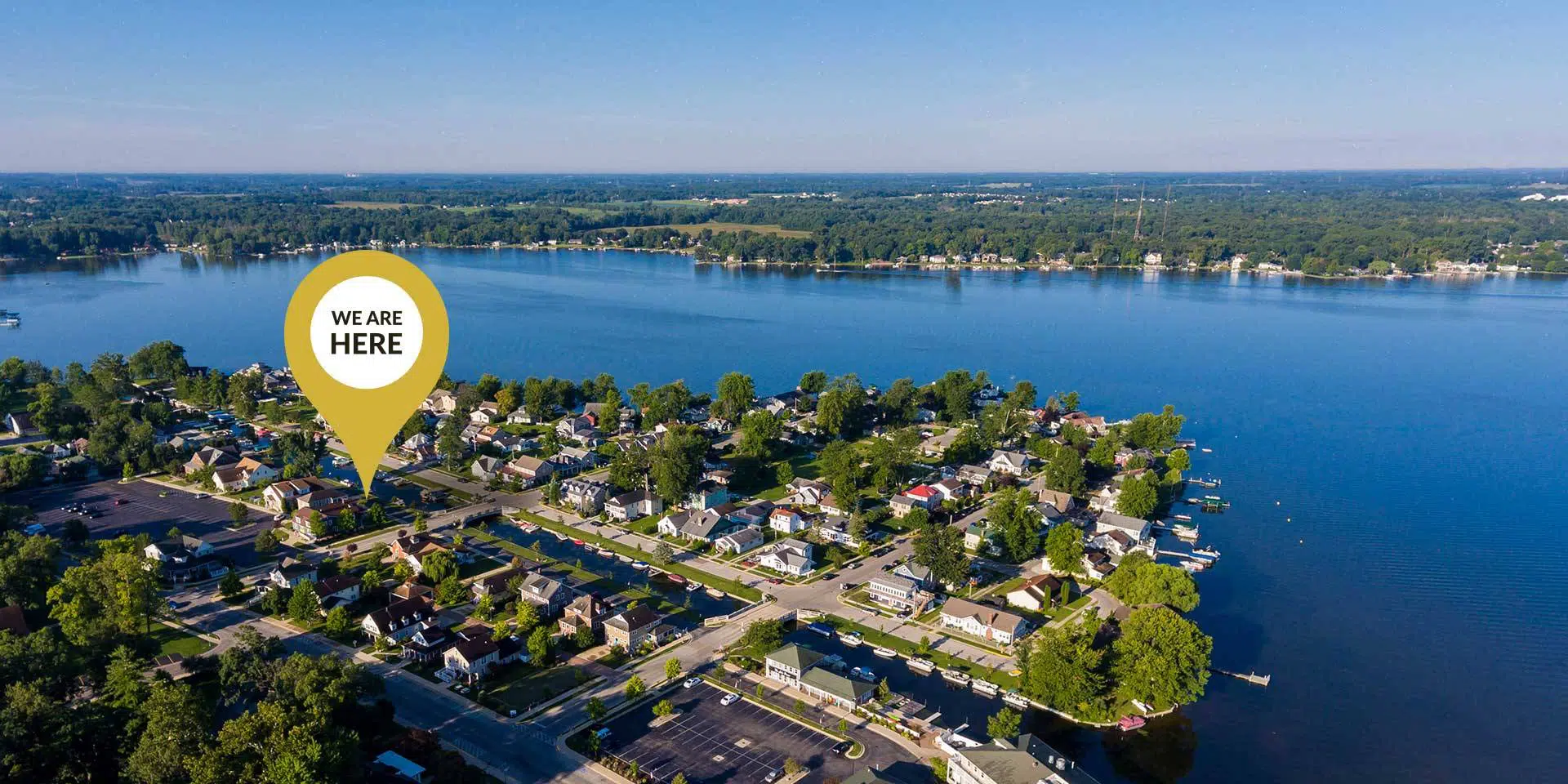 Visit Our Winona Lake Location
Our storefront and tasting room in The Village at Winona is open 10am – 6pm Tuesday – Saturday. Shop local to enjoy premium olive oils, vinegars, and other specialty curated foods designed to flavor your entire life!