Fresh Salad In A Jar: The Perfect Summer Lunch
General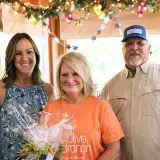 Posted by: The Olive Branch 5 months ago
It's July, and not only does that bring peak summer weather, the summer produce season is in full swing! Want to know what to do with all those delicious summer fruits and veggies? We have the best fresh salad in a jar recipes ideal for your weekday lunches.
Not only that, if you're local in the Warsaw and Winona Lake area, make sure you don't miss out on the local farmers' markets this summer. Both markets are held on Saturday mornings and showcase a wonderful variety of local produce and other artisan goods.
Kosciusko County Farmers & Artisans Market (Warsaw)
Farmers Market At Winona (Winona Lake)
If you're not local, don't stress! You can shop online for the perfect oils and vinegars to complement your local produce. Just click below to get started.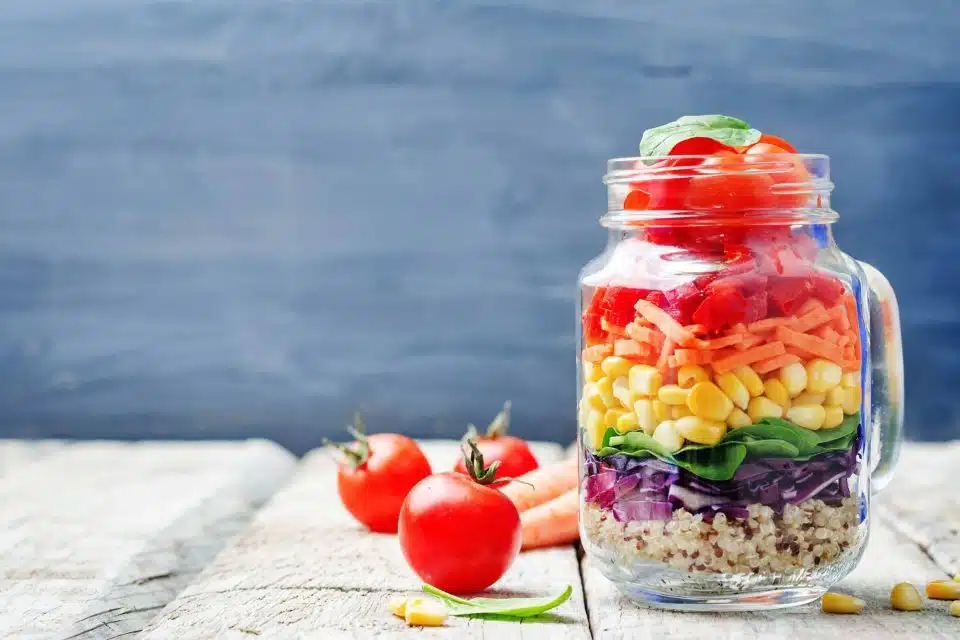 Why Salad In A Jar?
While many of us enjoy salads during the summer months, you might wonder what's so special about salads in a jar. Of course, it'll give you a trendy photo to share on social media, but mason jar salads are actually a fantastic way to enjoy summer veggies and fruits!
Because of the unique way you layer a salad in a jar, it preserves freshness longer, so you can make them ahead and enjoy them all week long. It's also the perfect to-go container for lunch on the go or at work.
The Key Is In The Layers
What really makes a salad like this work well is the way you layer the ingredients. The best rule of thumb is to layer ingredients in order based on their moisture content, otherwise, you risk your salad getting soggy.
Our recommendation for layering the perfect salad in a jar is:
Salad Dressing (check out some of our favorite recipes!)
Veggies or Fruits that are the highest in moisture content (tomatoes, berries, etc.)
Soft Veggies
Protein (shredded cooked chicken is a great addition!) & Grains/Pasta
Cheese and Other Toppings (nuts, seeds, croutons)
Greens
Our Favorite Mason Jar Salad Recipes
You can really put anything in your mason jar salad and mix up the ingredients depending on what fruits and veggies are in season. The sky's the limit!
Chopped Chicken Thai Salad
This salad will fill 4 quart-sized mason jars.
Dressing (whisk all ingredients together)
2 Tbsp. rice vinegar
3 Tbsp. creamy peanut or almond butter
1-2 Tbsp. water
1 tsp. lime juice
1 tsp. chili paste or Sriracha
½ tsp. grated fresh ginger
½ tsp. grated fresh garlic
Produce
2 cups broccoli florets (roasted and tossed with Cilantro & Red Onion Infused Olive Oil, salt, and pepper)
1 lb. cooked, shredded chicken (rotisserie chicken is perfect)
1 cup cubed mango
1 cup shredded red cabbage
1 cup roasted red peppers
4 cups lettuce (use hearts or romaine or other hearty green)
Layer Salad Ingredients In Mason Jar
1 Tbsp. Dressing
Mango
Red Cabbage
1. Tbsp. Dressing
Chicken
Broccoli
Roasted Red Peppers
Lettuce
Green Goddess Salad
This recipe will fill one quart-sized mason jar.
Dressing (whisk all ingredients together)
1 Tbsp. lime juice
1 Tbsp. finely chopped cilantro leaves
1 Tbsp. sour cream or Greek yogurt
1 minced garlic clove
Salt & Pepper To Taste
Produce
¼ cup chickpeas
¼ cup cooked and cooled quinoa
¼ cup shredded carrots
½ cup diced avocado
1 cup peeled and diced cucumber
½ cup shelled edamame or peas
1 cup baby spinach leaves
Layer Salad Ingredients In Mason Jar
Dressing
Cucumber & Carrots
Avocado
Quinoa
Chickpeas
Edamame (or peas)
Baby Spinach
Eat Well With The Olive Branch This Summer
There are endless combinations you can make when it comes to jarred salads, and they're delicious to enjoy year-round. Take your weekday lunch routine to a new level by making your own salad dressings that highlight our delicious local summer produce!
Not sure where to start? Ask our experts at The Olive Branch to recommend the best oils and vinegars for your dressings. You can even schedule a tasting with us to find the right one!
The Olive Branch is dedicated to providing premium extra virgin olive oils, balsamic, and wine vinegars at our storefront in The Village at Winona in Winona Lake, Indiana, and through our online shop.